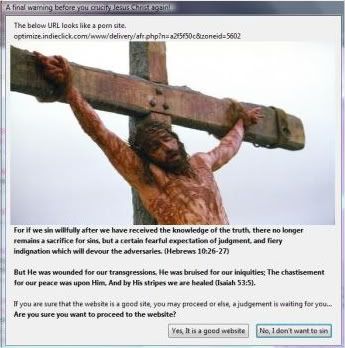 The Christian Anti-porn add-on!
Is this old news? I just found this today via a post on Think Atheist and installed it on my Firefox to test it out. It's pretty amazing.
The description for the add-on says it all -
Flee sexual immorality (1Co 6:18). Christian Anti-Porn will filter links and alert the user if any porn websites are clicked. This will not block but warn every Christian that he is going to crucify Jesus Christ again if he proceeds to such websites.

When you go to a site that this add-on deems unholy, a wonderful image above pops up.
I can already tell this add-on is pretty terribly made. I went to IMDB and looked up the movie 'Red Dawn' and my screen was an epileptic seizure of crucifixion. Which is unfortunate because I would gleefully keep this add-on if it wasn't so easily triggered - it's effng hilarious. As it is, the add-on is way too intrusive. I haven't visited a single porn site since I installed it and I've already been warned about killing Jesus over a dozen times.
And no, the humor of that is not lost on me. :D